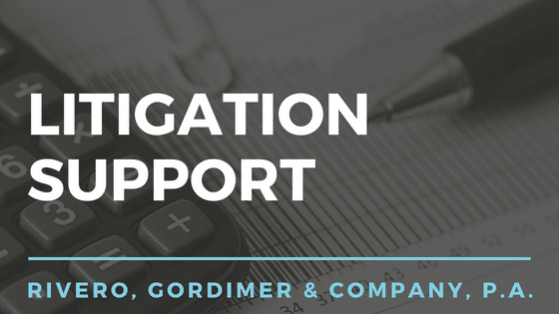 Litigation support involves the quantification of economic damages pursuant to existing or pending litigation using accounting and auditing techniques. We have experienced, competent staff who can compile information efficiently to assist in the calculation and documentation of any potential economic loss or damages.
Litigation support can provide assistance during legal cases involving business damages. One useful reason to acquire litigation support from a CPA is the ability to assess and uncover flaws in an opposition's expert witness report.
Quality litigation support will analyze all financial documents associated with the case to discover issues and opportunities in the information. The CPA should then be able to provide a clear and concise explanation of the findings to you and your attorney.
Industries we provide litigation support for:
Rivero, Gordimer & Company has CPAs and ABVs with litigation support experience in the following industries: